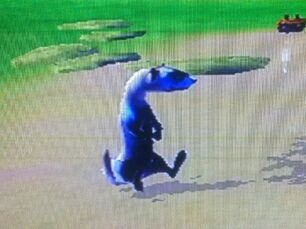 Ferrets are relatives of the weasel. They are members of the weasel family(including weasels and badgers). They can be unlocked anywhere because they are a cheat code animal(like the panda and red panda) with the model of a weasel. They make the same noises and have the same walk as well, and the same diet. The ferret in-game is a black-footed ferret(Mustela Nigripes).
Appearance and Traits
Edit
The ferrets in game are black-footed ferrets. They have a white face with a black mask, as they name suggests they have black feet and legs. They have a white tail with a black tip. They have long flexible bodies, much like weasels. They have the same body as weasels.
In personality, they are like the weasel in every way. Mischievous, trouble-making, the same diet.
Favorite Foods
Edit
Mice
Squirrels
Robins
Opossums
Burrows
Holes in trees
Hollow Logs
Hollow Stumps
Dead Bushes
Common Names
Edit
Fortunata(Female)
Slinky(Male)
Ad blocker interference detected!
Wikia is a free-to-use site that makes money from advertising. We have a modified experience for viewers using ad blockers

Wikia is not accessible if you've made further modifications. Remove the custom ad blocker rule(s) and the page will load as expected.