The robin is a small little songbird-plump and active-tweeting and bouncing along-and alert for their arch nemesis and predator-the cat! They have a black back, and a bright red chest and a yellow beak. In the game, they can be found in Snobby Manor and Big Rock. They eat mostly certain flowers and most tree nuts. Acorns-----yummy.
In-Game Description
Edit
The merry robin loves spending time in the sun while singing "cheerily, cheer up. cheer up, cheerily cheer up." Despite such a peppy disposition, this red-breasted bird is ever vigilant and on the watch for cats and other hungry predators.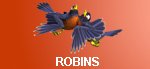 Favorite Foods
Edit
Acorns
Daisies
Cherries
Chestnut Seeds
The robin sleeps in branches of trees-they cannot make a nest for some reason.
Common names in the game
Edit
Piper(Female)
Allegra(Female)
Sherwood(Male)
Warren(Male)